Lucy A. Snyder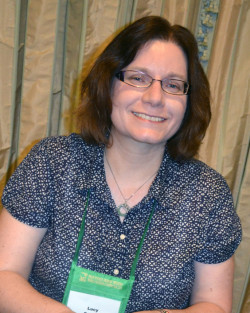 Lucy A. Snyder is the Bram Stoker Award-winning author of the novels Spellbent, Shotgun Sorceress, Switchblade Goddess, and the collections Sparks and Shadows, Chimeric Machines, and Installing Linux on a Dead Badger. Her writing has appeared in Strange Horizons, Weird Tales, Hellbound Hearts, Doctor Who Short Trips: Destination Prague, Chiaroscuro, GUD, and Lady Churchill's Rosebud Wristlet.
Lucy was born in South Carolina but grew up in San Angelo, Texas. She currently lives in Worthington, Ohio with her husband and occasional co-author Gary A. Braunbeck.
If genres were wall-building nations, Lucy's stories would be forging passports, jumping fences, swimming rivers and dodging bullets. You can learn more about her at www.lucysnyder.com.