Do You Believe in Ninjas?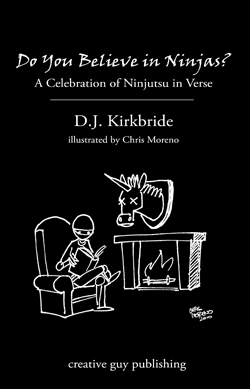 Ninja poems are
good for reading. Here are some
by D.J. Kirkbride.
What is "ninja poetry"? It's (hopefully) exactly what you'd gather from reading those two words:
Poems about ninjas.
This is a collection of the finest poetry about ninjas ever compiled. Well, at least that we know of – the others are all very, very secret.
Ever wonder how the modern ninja copes with daily life? Well it's probably not in the way this poet would have you believe, but then again, who's to say?
Including not one, not two, but SEVEN ninja haiku slams, this will be the book that quite possibly gets its author killed in the night…
Ninja poet (again, a poet who writes poetry about ninjas; not a poet who is a ninja, nor even a poet executing his work in a ninjatic style) D.J. Kirkbride has lovingly crafted the ninja poetry in this slim tome to aesthetic perfection.
Or something.
Joining him on this journey is acclaimed artist Chris Moreno. That stuff about it being a lonely road is hogwash; there is room on this journey for another.
Let that another be you.