Installing Linux on a Dead Badger (and Other Oddities)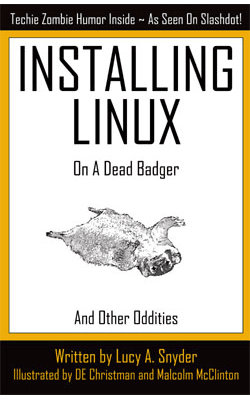 Attention geeks, script kiddies and budding necromancers! Lucy A Snyder's essays, articles and instruction manuals on installing various operating systems on various…um…corpses…is here! Find out all about how to hire zombies for your office, how to train the living to perform as productively as the zombies, and other moderately illegal and immoral acts. Not so good for your soul, perhaps, but excellent for the bottom line.
In these pages you'll find:
Installing Linux on a Dead Badger
Your Corporate Network And The Forces Of Darkness
Dead Men Don't Need Coffee Breaks
Business Insourcing Offers Life After Death
Corporate Vampires Sink Teeth Into Business World
Trolls Gone Wild
The Great VüDü Linux Teen Zombie Massacree
Wake Up Naked Monkey You're Going To Die
And much, much more!