Peripheral Visions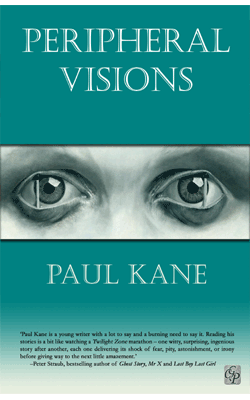 This latest collection of horror from Britain's Paul Kane has been eagerly anticipated by his fans, and coincides with the release of his novel The Afterblight Chronicles: Arrowhead in Oct/Nov 2008. Mr Kane's work has been praised by everyone from Peter Straub to Clive Barker to Gary Braunbeck, and this anthology of some of his most chilling tales to date is certain to please the fan of horror ranging from psychological to supernatural and back again.
A man suffering from epilepsy finds himself addicted to strobe lighting, while another discovers why lies make the best material for a very special suit. As a clean-up crew entering a run-down house get more than they bargained for, and remote viewing comes under closer scrutiny, we find out about Santa's extremely bad day. Can balance be maintained when the legendary figures Yin and Yang betray each other, will a mentally unbalanced check-out girl finally give into temptation, and will two ghosts finally find the love in death they couldn't hang on to in this world? Snapshots of lives, of a reality just slightly out of kilter – of things that you can only see out of the corner of your eye: Peripheral Visions.
In this collection you'll find twenty stories, and one novelette, from the extraordinary imagination of multiple British Fantasy Award Nominee Paul Kane: author of Touching the Flame, Signs of Life and The Lazarus Condition.