Gypsies Stole My Tequila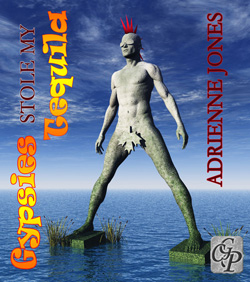 The author of the critically acclaimed The Hoax offers up a often hilarious, yet always poignant look at coming to terms with growing older. Under Jones' masterful storytelling, Joe Blood jumps off the page as he struggles against the demons of his own past, while confronting the stubbornness and arrogance of youth in the form of an unfocused, wanna-be rock band. Oh yeah, plus some punk gypsies and meat market full of animal costumed employees. This is a story that simply comes more and more to life with each turn of the page.
Like most people on the cusp of turning 40, former punk rock star Joe Blood is wrestling with the demons of his past. Unfortunately, one of them is living in his wall.
Determined to hold him to a suicide pact made twenty years before, Joe's Time Demon starts the countdown on the last weeks of his life, calling for death on his 40th birthday. Washed up and defeated, the downtrodden has-been is willing to accept this fate. Until a final test presents itself, challenging Joe Blood to save his own life by becoming the one thing he despises…himself.
Ebook only! To buy this book in print, please visit Necro Publications.