Stays Crunchy in Milk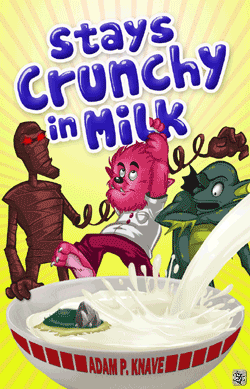 They were four: Wereberry the strawberry werewolf, Choco-Ra the chocolate mummy, The Creature From the Fruit Lagoon (his friends call him "T.C."), and Cherrygeist the… well she was a ghost. At least, until she wasn't. One day, she wasn't there at all. And then they were three.
Three friends who have sworn to search for her to the ends of the world and beyond – to find and save her.
Through familiar lands to places startling and unknown – across looming castles, endless battlefields and simple brick roads – these three friends will hunt and search and scour every inch. Along the way they'll have to rely on a whole lot of luck and a little bit of charm, but mostly each other.
A fairy tale for the super-sugar generation, Stays Crunchy in Milk is a road novel packed with 100% of your recommended daily allowance of essential action and adventure. And it's a delicious part of a nutritious breakfast.