Mike Stone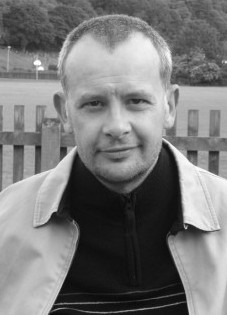 Mike Stone was born in 1966 in Stoke-on-Trent, England. Since losing most of his eyesight he has retreated from your world to travel the dark corners of inner space — or to put it more prosaically he thinks "What if?" a lot. The signs are clear to those that know him well, for his one not-so-bad eye glazes over and he is rendered deaf to all English except for "Would you like a cup of tea, Mike?" He will then engage with reality long enough to ask if there are any biscuits before drifting off again. While agreeing that this can be very trying for those around him, he remains unrepentant.
His first collection was Fourtold (Baysgarth Publishing, 2008). Since then he has published another collection, Memory Bones (Graveside Tales 2012) and a novella, Lemon Man (Creative Guy Publishing, 2012).
He is represented by Nat Sobel of Sobel Weber Associates, Inc.